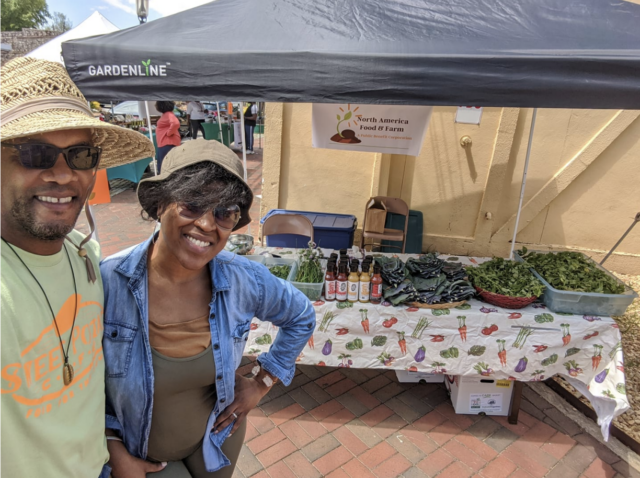 STONECREST, GA- Shoppers who visit The Mall At Stonecrest will be able to buy fresh produce from local growers and gardeners just ahead of the upcoming holidays.
Through a partnership with North America Food & Farm PBC Inc. (NAF2), a farmers market is being launched this month on the mall's plaza between Round One Entertainment and the food court. A soft opening for the new Stonecrest Fresh Farmers Market will be held on Thursday, Dec. 23, noon to 5 p.m.
The market will provide access to produce and proteins sold directly by farmers and gardeners and the market also will create a vibrant civic space for community engagement.
"Our primary aim with the Stonecrest Fresh Farmers Market is community building," said Kwabena "Cubby" Nkromo, NAF2 CEO and founder.  "Beyond the transactions between customers and farmers, we intend to create a new civic space in the City of Stonecrest for all types of citizen connections and engagement."
Nkromo told On Common Ground News this morning (Dec. 17) that he envisions an array of activities on the plaza during the markets.
"We plan on having chef demonstrations, musicians, Boy and Girl Scouts and other civic  and community groups. Voter registration drives and other community resources also will be provided," said Nkromo.
Donald Bieler, director of marketing and specialty leasing for The Mall At Stonecrest, said the mall is elated about its partnership with the Stonecrest Fresh Farmers Market and believes the market will have a  positive impact on the community.
"We are excited for our community to experience a superior market under the management and direction of Cubby and NAF2!," said Bieler.
A series of preliminary pop-up markets will be held during December and January prior to the official launch of the full market in February 2022, said Nkromo, who will be selling sweet potatoes, kale and other greens at the markets.
Nkromo said the Stonecrest Fresh Farmers Market will become part of the landscape taking place across the U.S. Now more than ever, farmers markets, he said, serve as anchors in American communities, helping to boost the agricultural industry while providing communities with increased access to fresh, nutritious food, and stronger social networks that help keep communities healthy. Nkromo said such community partnerships are very critical. From 1992 to 2007, 21% of mid-sized farms in the U.S. stopped operations, according to the Farmers Market Coalition.
Nkromo said farmers and other specialty food vendors who would like to sell goods at the Stonecrest Fresh Farmers Market should contact the Market Manager via email at info@NAF2PBC.farm or call/text at 404-721.3992 for details.