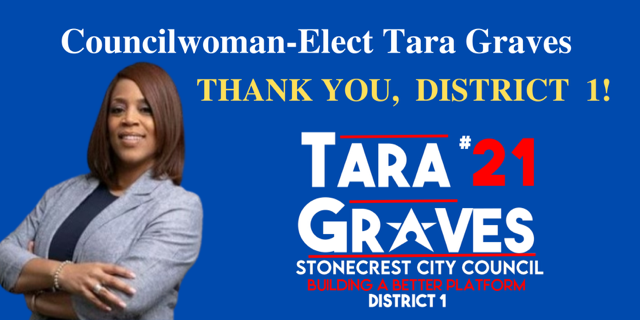 Story Updated Dec. 1: Graves thanks supporters, Incumbent Jimmy Clanton for his service
STONECREST, GA—Tara Graves overwhelmingly defeated incumbent Jimmy Clanton in the Nov. 30 runoff for the District 1 Stonecrest City Council seat, earning 68.05 percent (296 votes), according to unofficial results released at 9:40 p.m. by DeKalb County elections officials.   Clanton received 31.95 percent (139 votes), elections officials reported.
Graves, who has never run for office before, started the runoff race with a strong lead from supporters showing up for advanced voting. According to stats, she received 116 votes during advanced voting while Clanton received 46 votes.
On election night, Graves held solid leads in three of the four precincts in District 1.
On Common Ground News caught up with Graves on Dec. 1, the day after the election to congratulate her. Graves excitedly thanked supporters and Councilman Jimmy Clanton for his service. Graves said in a statement :
"Thank you to the amazing supporters who believed in me and my ability to welcome change to Stonecrest. 
As I begin this journey, I ask for patience and grace as we build a better Stonecrest together!  With us working together establishing the overall direction of the city, we can have a clear purpose and goal.
As your elected voice, I am committed to the city's success (collectively) and servicing the people of Stonecrest. I am truly grateful for the opportunity to serve you and learn from you (your input) on how we can make Stonecrest the best city in America.
It is my commitment to work hard, to communicate and to give Stonecrest the BEST me with honesty, dependability, integrity and loyalty. 
Lastly, Councilman Clanton, thank you for your service to our beloved Stonecrest. Again, thank you for your confidence and I look forward to advocating for you." 
Graves commanded the lead at the Stonecrest Library precinct with 117 votes to Clanton's 45 votes, unofficial results showed.
Here's a breakdown of the results posted at the other three precincts in District 1 on election night:
Redan Trotti Precinct
Graves, 32         Clanton, 22
Stoneview Elementary
Graves, 12     Clanton, 5
Princeton Elementary Precinct
Clanton, 11   Graves, 7 votes
 Election Night Results Released As of Nov. 30, 2021 9:46 p.m.: