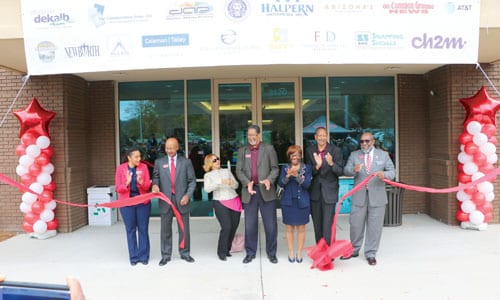 A crowd celebrated the grand opening of Stonecrest's new City Hall.
Mayor Jason Lary, his wife Debra, and the five-member City Council held a ribbon cutting ceremony on Nov. 11 to mark the historic milestone for the newly-formed city of 50,000 residents.
Congressman Hank Johnson and his wife, DeKalb Commissioner Mereda Davis Johnson, were among several dignitaries and officials who spoke before the ceremony.
The half-day of festivities included a performance by the Arabia Mountain High School Band and entertainment by R&B band, Gritz and Jelly, as well as tours of the 13,000-square-foot City Hall office space.
Attendees had a chance to wind their way through the new City Hall headquarters, where they had a chance to see conference rooms named for the four high schools in or in close proximity to the city: Arabia Mountain, Miller Grove and Lithonia, which are all located within the city, as well as Martin Luther King, Jr. High, which is located just outside of the city. Artwork representing each of the high schools will be showcased in the conference rooms, said Adrion Bell, the city's communications director. The tour also included the new chambers where City Council meetings will be held.
City officials had occupied temporary office space since July on the first floor of the Strayer University building while their new offices were built directly across from the temporary offices. The address for Stonecrest City Hall is 3120 Stonecrest Blvd.