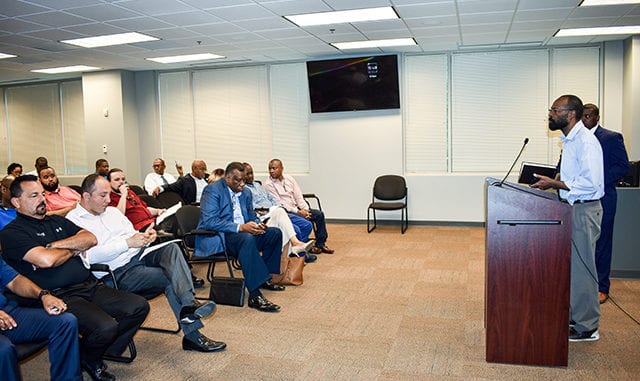 Organizers of Caribbean Carnival met on Tuesday (May 15) with city officials, businesses and community leaders for an informational meeting in preparation for the upcoming festival.
The event, which will be held on Memorial Day weekend (Saturday, May 26), is expected to draw 25,000 guests to the new city of Stonecrest. There will be a parade down Mall Parkway and afterward, there will be a festival with entertainment and vendors.
Representatives from the DeKalb Police and Fire Departments were present to explain road closures and safety procedures that will be in place during the event. Police will be on hand to direct traffic and  and water and first aid stations will be set up for those who need assistance. Charles Baker, who is organizing the festival, said a private sanitation company has been hired to clean up the area following the event. Business representatives asked several questions concerning access to serve their customers and police assured them that plans are in place to handle traffic flow.
The parade will begin on Mall Parkway near Wal-Mart at 12:30 p.m. Following the parade, the festival will continue until 10 p.m. in the parking area near the former Kohl's building, which is now Atlanta Sports City.
For more information visit: atlantacarnival.net.