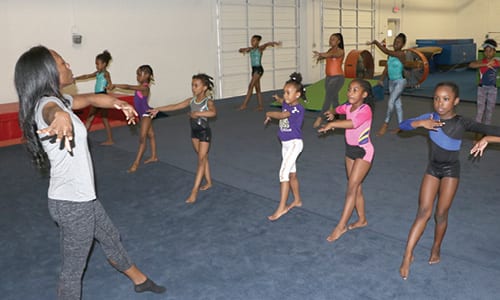 By Valerie J. Morgan
Shadae and Gavilan Crawford had no idea they were talking to Olympic gold medalist gymnast Gabby Douglas when they spent three days showing her the ropes at their gymnastics business in the city of Stonecrest.
Douglas, 22, came to Stonecrest Gymnastics & Ninja Zone to film an episode of Celebrity Undercover Boss, which airs Fridays on CBS. She went undercover as a middle-aged office manager pretending to be interested in opening a gymnastics school for children.
In an interview with On Common Ground News, the Crawfords said filming the segment has been one of the highlights of operating their business, which will turn 5 years old in July.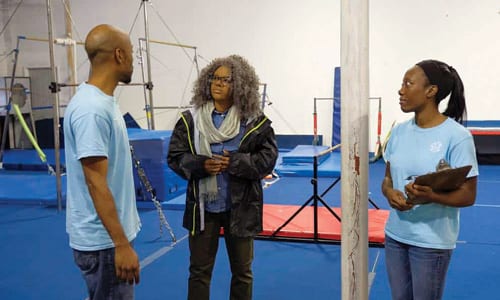 "We had no idea that it was Gabby Douglas who had been following us around. She had on a really good disguise," said Shadae Crawford.
The Crawfords said they were invited to be part of the Celebrity Undercover Boss segment after a casting call company reached out to them on Facebook.
It was Shadae Crawford's vision to open the gymnastics program in search of providing quality, affordable training to African American kids.
"I've been coaching for 16 years," said Shadae Crawford, who was captain of Lithonia High School's gymnastics team. "You just don't see a lot of African Americans in gymnastics. The costs can be super expensive and we wanted to open our doors and make it affordable," said Crawford.
Gavilan Crawford said they have about 250 students in their program, among them a 10 year-old who has qualified as a two-time state champion.
"We train children from 18 months old to 18 years old. It's a great sport for kids. Gymnastics teaches them leadership skills and some move on to compete. It helps them build mental fortitude and learn how to keep pushing," said Shadae Crawford.
Stonecrest Gymnastics & Ninja Zone is located at 5036 Minola Drive. 770-733-1508.