DCSD Athletics Specialist 
DEKAB COUNTY— Devin Ingram fueled a 14-point rally in the final five minutes to propel the Stephenson Jaguars to a 40-38 Class 4A first round high school football playoffs victory over the Pace Academy Knights on Friday night(Nov. 11) at Hallford Stadium. 
Paces' Terrence Kiel scored his fourth touchdown of the night on a 44-yard run with just over five minutes to play to put the Knights (8-3) up 38-26 in what looked like a game-clinching touchdown. 
Ingram had other thoughts as he returned the ensuing kickoff 66-yards to show the Jaguars (7-3) were not quitting. Place kicker Etsomfa Elavero passed to Romando Craddock for the two-point conversion to cut the lead to 38-34.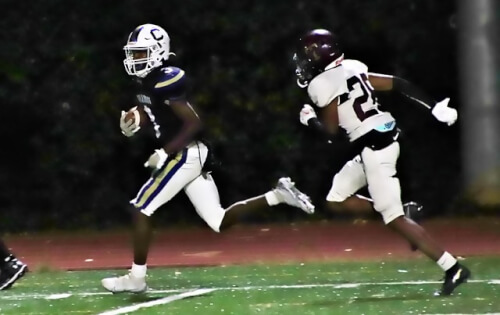 Stephenson's defense forced the Knights to punt and got the ball on their own 42-yard line. Ingram busted a 58-yard run to the end zone on the first play to put the Jaguars up 40-38 with 1:15 to play. 
Pace marched back down the field aided by penalties on the Jaguars and with time running out put up a 32-yard field goal attempt that went wide left and Stephenson escaped into the Sweet 16 round of the state playoffs. 
Pace had jumped to an early 14-0 lead in the first quarter as Kiel hauled in a 70-yard touchdown pass from Conner Phelan and returned a fumble 85-yards. 
Ingram, who finished with 363 all-purpose yards (18 carries, 203 yards, 2 TDs rushing; 160 yards and 2 TDs on kickoff returns), got the Jaguars on the board early in the second quarter with and eight-yard to make it 14-7. Following another Pace score that made it 21-7, the Jaguars responded with two touchdowns. Ingram returned the following kickoff 70 yards for a touchdown and Cheik Keita ran in from two-yards out to make it 21-20. 
Pace added a 36-yard field goal by Roan Dutta to make it 24-20 at the half in favor of the Knights. 
Kiel picked up his third touchdown of the night on five-yard run as Pace went up 31-20. Stephenson followed with an 86-yard touchdown pass from Marte Barton to Denver Jones to pull the Jaguars within 31-26. 
Stephenson advances to take on No. 1 ranked Cedartown Bulldogs (11-0) on Friday night , Nov. 18 ,at 7:30 p.m. at Cedartown. The Region 7-4A champions Bulldogs defeated Cedar Shoals 49-0 to advance to the Sweet 16. 
The first home playoff game since 2007 was a resounding success for the Chamblee Bulldogs as they ran out to a 41-7 halftime lead in a 62-13 win over the McIntosh Chiefs in the first round of the Class 5A state playoffs on Saturday night at North DeKalb Stadium. 
Larry Harris had the first of his three touchdowns on the night running in the opening score of the game and Ashton Bolston ran in the second score of the night as the Bulldogs jumped out to a 14-0 lead in the first quarter. 
Senior quarterback Fabian Walker took over the game rushing four and three yards for touchdowns as the lead ballooned to 28-7 with 3:42 to play in the first half. 
Jack Hawkins set up the next score returning an interception to the McIntosh 21.Walker (27-17-0, 292 yards, 2 TDs) connected with Harris on a 15-yard pass in the left flat where he turned up field and ran untouched into the end zone. Daniel Chavez's fifth PAT made it 35-7. 
Chamblee recovered a fumble and Walker connected with Levi Bradham for 37 yards and touchdown with 19 seconds left in the half to take a 41-7 lead into the break. 
The Bulldogs fumbled into the endzone with 8:54 to play in the third quarter but an alert Chavez jumped on the football for the touchdown and added the PAT to make it 48-7. Chamblee took a 55-7 advantage into the fourth quarter on Harris' second touchdown run and third score of the night. 
Jeffery Thornton's 36-yard interception return set up Matthew Neff's six-yard run for Chamblee's final score of the game. 
McIntosh added a late score to make it 61-13 final.  
Four years ago, the Bulldog freshman were on a team that went 1-8 and they are now 8-2 with a playoff victory. Chamblee moves on with a trip to Waycross to take on No. 1 ranked Ware County (10-0), a 55-13 winner over Jones County last Friday night. The game is set for 7:30 p.m. on Friday, Nov. 18. 
Four Cedar Grove runners ran for over 75 yards as the Saints piled up 363 yards and four rushing touchdowns on the way to a 48-7 Class 3A state playoff first round victory over the Bremen Blue Devils. 
Boden Walker ripped off a 68-yard touchdown run to put the defending champions Saints (8-2) on the board and Bremen never got going against the Saints defense which held the Blue Devils (5-6) under 100 yards in total offense. 
Quinterio Lawson had a big night on both sides of the football for the Saints as he ran for 76 yards and a 40-yard touchdown on offense and had two sacks and a strip of the quarterback and 42-yard touchdown return on the play.  
The Saints went up 27-0 at the half and led 34-0 with 10:47 to play in the third quarter before a bobble snap on a Saints field goal attempt turned into a pick-six for the Blue Devils only score of the night with 4:26 left in the period. Cedar Grove went into the fourth quarter up 41-7. 
Walker (4 carries, 86 yards), DeMarcus Smith (7 carries, 82 yards, 1 TD), Lawson (2 carries, 76 yards) and EJ Colson (4 carries, 83 yards) led the way in the ground attack for the Saints. Colson added 86 yards passing hitting on nine passes of 12 passes for 86 yards with touchdown tosses to Ricky Lee and Miami Jones. 
Chase Kerns had his second consecutive big game on defense for Cedar Grove with 7 tackles (3 sacks, 4 TFL) and forced two fumbles.  
Cedar Grove plays host to Hebron Christian (9-2), a 63-14 winner over Pickens in the first round, at Godfrey Stadium on Friday at 7:30 pm. 
Northside-Columbus 35, Tucker 27 
The Tucker Tigers fourth quarter rally came up short against Northside-Columbus as they fell 34-27 in the first round of the Class 5A state playoffs on Saturday night in Columbus. 
Columbus jumped out to a 35-0 lead behind four rushing touchdowns and one passing touchdown by quarterback Caden Clay before the  Tigers began to come together. Jamar Graham hooked up with running back Jordan McCoy on a 75-yard pass play to cut the lead to 35-6 going into halftime. 
Late in the third quarter the Tigers stopped Northside (10-1) on downs at the Tucker 25 and drove down the field with Graham taking the ball the final two yards for the touchdown. A two-point play failed, and Tucker trailed 35-12 heading into the fourth quarter. 
Tucker closed the gap to 35-19 early in the fourth quarter as Graham hooked up with Christian Whitmore on a 20-yard touchdown pass. Evan Ffrench hit the PAT. 
Northside drove down and missed a field goal to give the Tigers (4-7) the football at their own 20. Graham hit a third touchdown pass of the night, this time for a 23-yard touchdown pass to Anthony Ammons. Graham passed to Christopher Jackson for the two-point conversion to pull within 35-27. 
A Northside fumble at midfield was recovered by the Tigers with about one minute to play giving Tucker a shot at tying the game. Northside's Malachi Mosely had other ideas as he intercepted a pass to preserve the Northside win. 
Jordan McCoy finished the night rushing for 112 yards on 19 carries and catching six passes for 143 yards and a touchdown to lead Tucker. Graham finished the night hitting 12 of 26 passes for 224 yards and three touchdowns and added a rushing touchdown. 
North Cobb Christian 14, Columbia 6 
North Cobb Christian jumped out to a 14-0 lead and held off the Columbia Eagles for a 14-6 Class 3A first round playoff victory in Kennesaw on Friday. 
Columbia finishes the season at 7-4. 
DCSD FOOTBALL – PLAYOFF FIRST ROUND RESULTS
Stephenson (7-3) 40,
 Pace Academy 
(8-3) 38
North Cobb Christian
 (10-1)
 14, Columbia (7-4)
 6
Chamblee (8-2) 62,
 McIntosh
(5-6)
 13
Cedar Grove (8-2) 48,
 Bremen 
(5-6) 7
Northgate
 (5-6)
 38, Arabia Mountain (5-6)
 14
Northside-Columbus
 (10-1)
 35, Tucker (4-7)
 27
DCSD FOOTBALL – PLAYOFF SECOND ROUND SCHEDULE
Hebron Christian (9-2) vs. Cedar Grove (8-2), 7:30 p.m. 
Stephenson (7-3)
 at Cedartown (11-0), 7:30 p.m. 
Chamblee (8-2)
 at Ware County (10-0), 7:30 p.m. 
Photos provided by Mark Brock, DeKalb County School District Athletics Specialist.