ROCKDALE COUNTY, GA—The Rotary Club of Conyers recently honored outstanding Rockdale County Public Schools (RCPS) seniors from Salem High School, Rockdale County High School, Rockdale Magnet School for Science and Technology, and Heritage High School.
The Rotary Senior Awards were presented on March 23 at the Rotary Club of Conyers  luncheon meeting, which was held at the RCPS Board Room in Conyers.
The students were recognized in the areas of Performing Arts, Social Studies, Music/Band, Foreign Language, English, JROTC (Junior Reserve Officer Training Corps), Physical Education, Science, Art, CTAE (Career Technical and Agricultural Education), and Math.
The following students were recognized: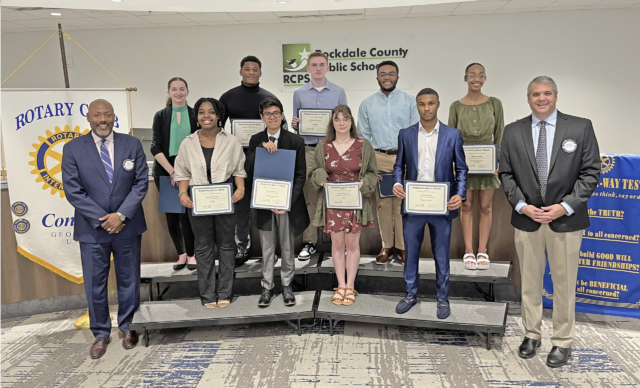 SALEM HIGH SCHOOL:
English – Sara Abdalla
Math – Mishyel Harper
Foreign Language – Victor Montoya
Art – Arden Crawford
CTAE – Abigail Cano
ROTC – Jordan Herndon
Science – Ethan Niemczyk
Social Studies – Graham King
Performing Arts – Amori Fulcher
Music / Band – Caleb Martin
Physical Education – Jocelyn Streater-Nesbitt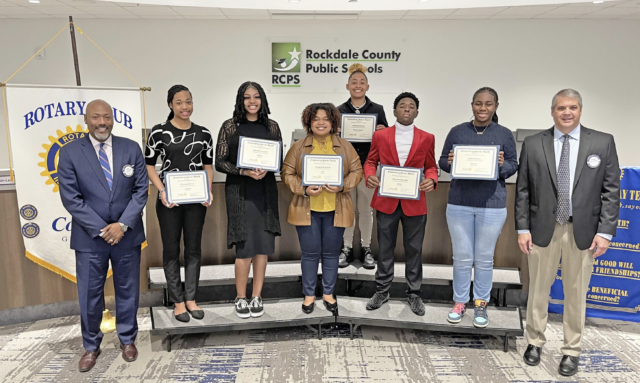 HERITAGE HIGH SCHOOL: 
English – Clarissa Johnson
Math – Zada Washington
Foreign Language – Linda Lopez
Art – Brooklyn Compton
CTAE – Sidney Smith
ROTC – Thornton Fears, III
Science – Gabrielle Bray
Social Studies – Christina Roland
Performing Arts – Destiny Carter
Music / Band – Adam Spencer
Physical Education – Nadir Marshall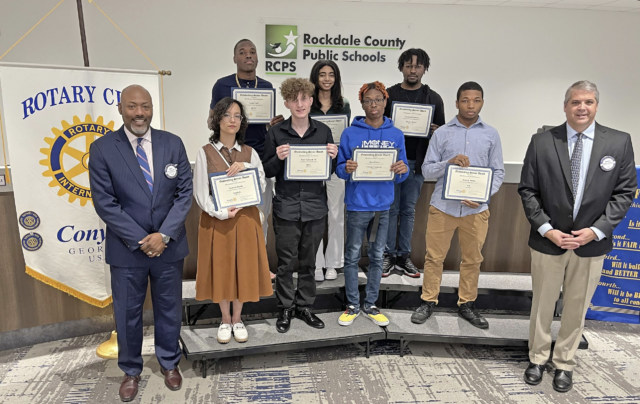 ROCKDALE COUNTY HIGH SCHOOL:
English – Jasmine Basila
Math – Paul Garland, III
Foreign Language – Jarrell Cain
Art – Patrick Willis
CTAE – Chavez Milam
ROTC – Jason Cain
Science – Madison Presha'
Social Studies – Kyler Havens
Performing Arts – Kiara Moscati
Music / Band – Darrius Patterson
Physical Education – Makaibri Moore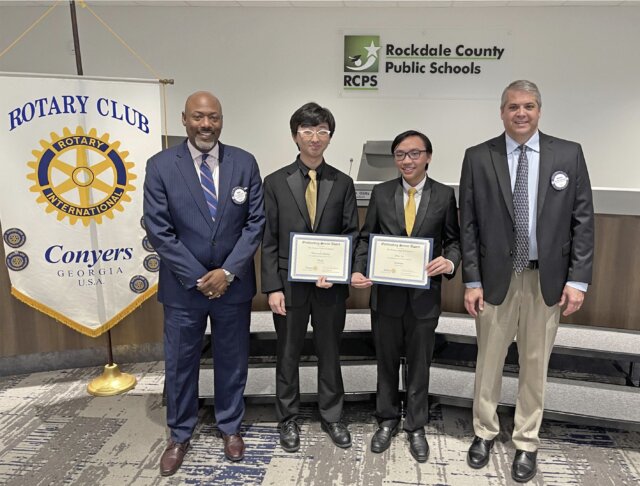 ROCKDALE MAGNET SCHOOL FOR SCIENCE AND TECHNOLOGY: 
Math – Maxwell Zhang
Science – Duc Le