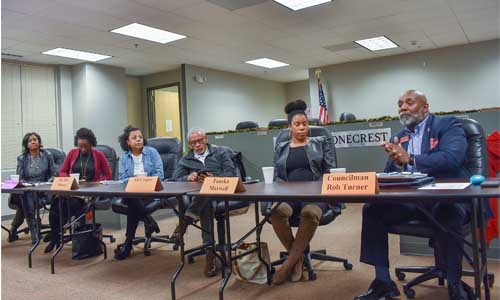 The Stonecrest City Council recently passed a resolution to establish the Stonecrest Film and Advisory Committee.  The seven-member committee will include Councilman Rob Turner, the city manager or his designee and five residents representing each of the city's council districts.
Stonecrest has become a preferred destination for film and entertainment production.  The city hosted movies such as Shaftand is home for television series productions such as Black Lightning, MacGyver,Greenleaf, and Star.
The film advisory committee hosted a panel discussion at City Hall to answer questions from residents regarding listing their property for movie set locations and getting into various aspects of the movie business.
The six-member panel included LaRhonda Sutton, who owns Entertainment.gov, an entertainment consulting firm; Dee Dee Murray, production manager for the DeKalb Entertainment Commission; and film location scouts, Taneka Maxwell and Albert Cooper.
Residents engaged in conversations covering topics such as job creation and strategies for bringing more film projects to Stonecrest.
The panel culminated the evening at the Pizza Bar, where guests networked and interacted with the film professionals.