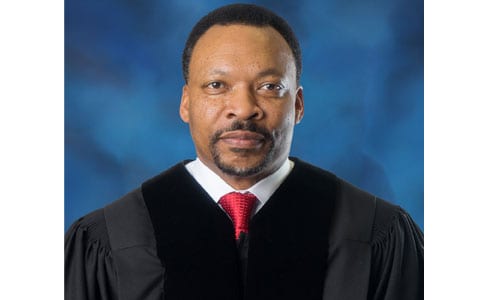 By Clarence Cuthpert
Rockdale Probate Judge
Over the past 12 months the Rockdale County Probate Court ("RCPC") has continued its efforts to improve efficiency and proficiency in providing services to our community. RCPC's revenue has continued to increase as a result of making the community aware of the services available through this Court. Purchasing birth and death certificates locally for individuals who were either born or deceased throughout the State of Georgia, which many of our citizens were not aware could be done prior to the RCPC raising awareness throughout the community, has been a major catalyst in increased revenue.
Applications for Georgia Weapon Carry Licenses increased minimally over the past year, and we continue to provide fingerprinting in the RCPC office on Wednesdays to ensure daily access. Fingerprinting is still available at the Rockdale County Sheriff's Office every day, except Wednesdays.
In 2019, I continued my efforts to inform Rockdale citizens of RCPC's services and information pertaining to issues within this court's jurisdiction by publishing articles in On Common Ground News'"Constitutional Corner." This year, I presented to several organizations including the Olivia Haydel Senior Center, Rockdale County Public Schools, Rockdale County Sheriff's Office Citizen's Alumni, Nancy Guinn Library in conjunction with the Clerk of State and Superior Courts, Shop Talk (sponsored by Chairman Nesbitt), and Homeowners for Better Government. I also served as a member of the Stepping Up Initiative Steering Committee, spearheaded by Commissioner Williams, focusing on Mental Health issues in our community.
I also participated in several activities for our youths, including serving as keynote speaker for the 2019 Youth Law Camp sponsored by Chief Magistrate Judge Phinia Aten and NewRock Legal Society; serving as a judge for the Rockdale County Middle Schools' Oratorical Contest sponsored by Clerk of Court Ruth Wilson; as a member of the Rockdale County Public Schools Superintendent's Advisory Board; and as a Board member for the A.R. "Gus" Barksdale Boys & Girls Club and United Way-Rockdale. I also mentored young men from Hills Academy, served lunch at Peek's Chapel Elementary School during National School Lunch Week, and mentored their students during the year. I welcomed students for the 2019-2020 school year at Honey Creek Elementary School as well.
I attended the Probate Judges Day at the State Capitol with the Council of Probate Judges of Georgia in 2019 and met with the state senators and representatives during my visit, as I have for the past two years. I also served as a featured panelist with several other judges to provide training for attorneys and guardian ad litems who represent wards and minors in probate Courts throughout the State of Georgia. Additionally, I continued to serve in my appointed position on the Judicial Council's Standing Committee on Access to Justice, chaired by Supreme Court of Georgia Justices Robert Benham and Charles Bethel, as the representative for the Council of Probate Judges of Georgia representing probate courts statewide. The Committee's mission is to improve the public's trust in the Judicial Branch by promoting meaningful and effective access to courts and fairness for all.
I am proud to say that the Protecting our Elderly and At-Risk with Resources for better Living (P.E.A.R.L.) program, as of May 17, 2019 received the approval of the Commissioner of the Georgia Departmentof Human Services as one of five recognized Multi-Disciplinary Teams in the State of Georgia. P.E.A.R.L. is a Multi-Disciplinary Team comprised of the Rockdale County District Attorney's Office, the Sheriff's Office, and the Probate Court to specifically address the issue of elder abuse and the abuse of incapacitated adults in Rockdale County. The P.E.A.R.L. program was recently awarded a federal grant through the U.S. Department of Justice to further its initiatives.
The RCPC's goal in 2020 is to improve our levels of efficiency, proficiency, and participation in activities intended to inform and enhance the community.