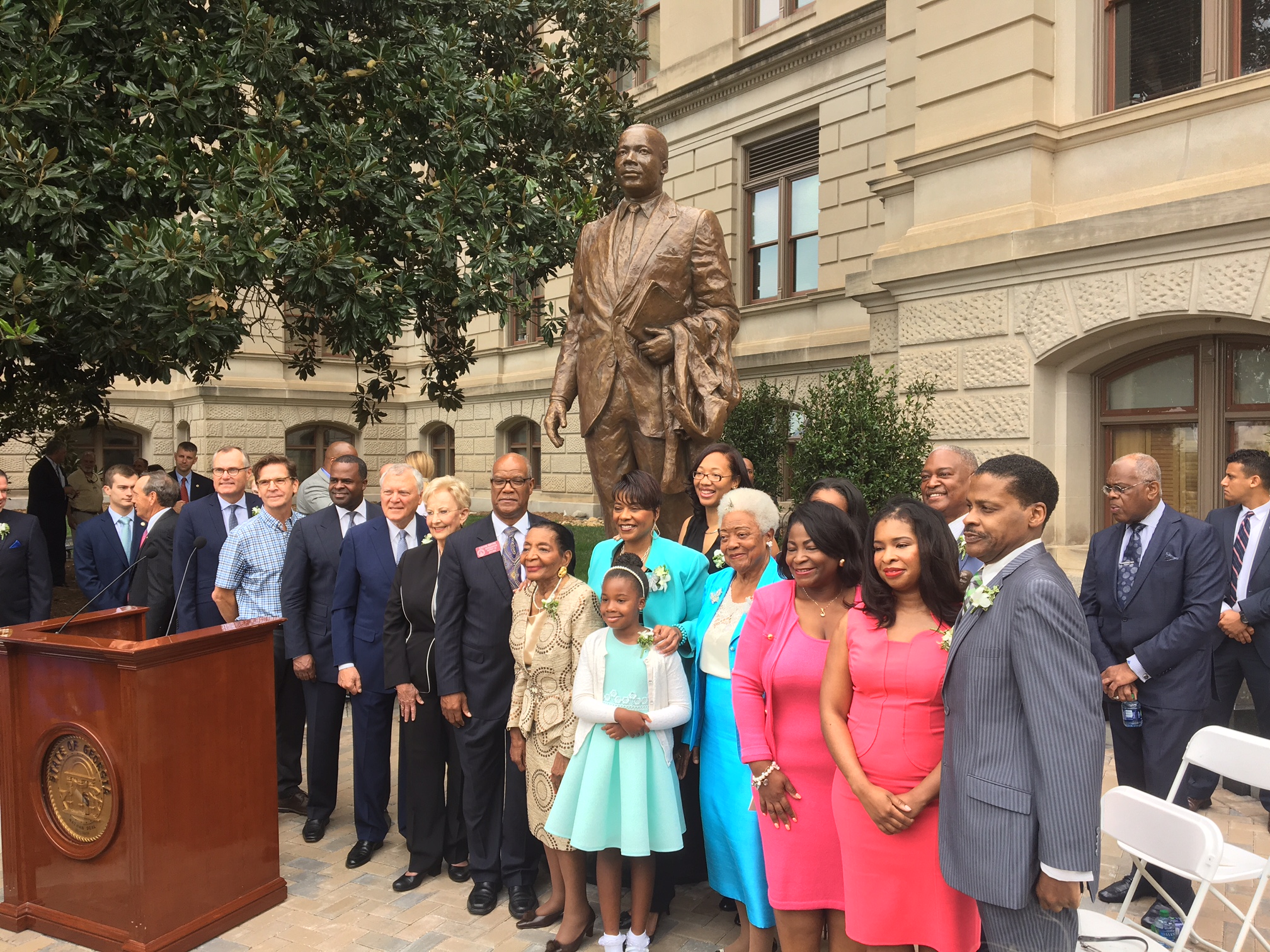 Gov. Nathan Deal, joined by First Lady Sandra Deal, members of the King family, Atlanta Mayor Kasim Reed and other dignitaries, unveiled the Dr. Martin Luther King Jr. statue before a crowd gathered on the grounds of the northeast quadrant of the State Capitol on Aug. 28.
The eight-foot-tall bronze statue, which stands atop a 36-inch pedestal made of Georgia granite, was created by Atlanta-based sculptor Martin Dawe of Cherrylion Studios.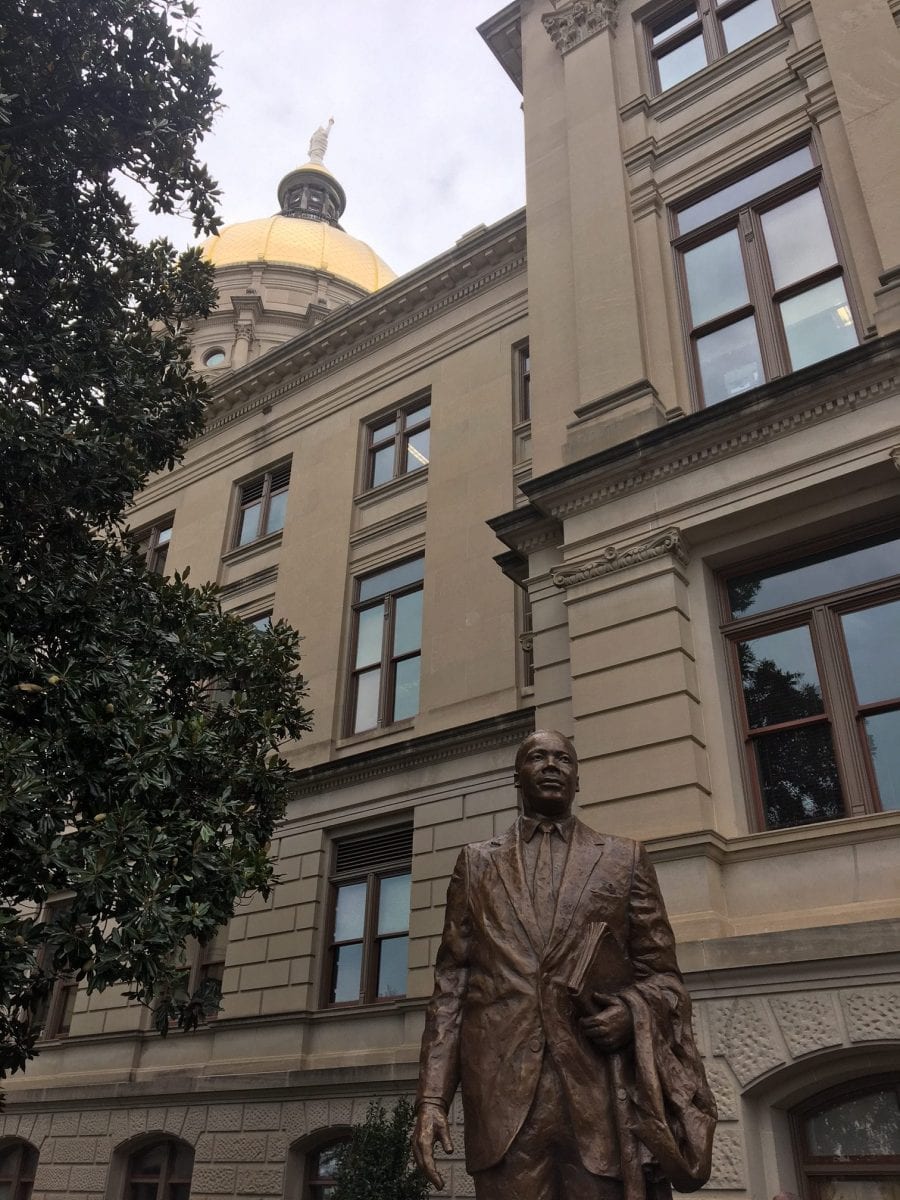 "We are gathered here today to celebrate the completion of a years-long effort to commemorate the life and works of Georgia's own son, Dr. Martin Luther King Jr.," said Deal. "Dr. King's legacy is one of hope. He gave, and continues to give, men and women a reason to believe and to dream. He expanded the aspirations of future generations. The America we know is a better place because one man followed his conscience. Erecting a monument in his memory, both facing Liberty Plaza and on the grounds of the Capitol of his home state, is a fitting and long overdue honor."
Mayor Reed called the statue a "source of pride" for the city.
"I am proud to welcome this new monument memorializing Dr. Martin Luther King, Jr. to his birthplace and the cradle of the Civil Rights Movement, where every building, street and monument bearing his name should stand as a source of pride and excellence for our city," said Reed. "The statue we unveiled today pays tribute to Dr. King's character and legacy. This memorial tells another part of our great state's story and makes an important statement about the value of inclusion, the strength of diversity, and the power of grace."
Several officials from DeKalb County witnessed the unveiling. Among them were State Rep. Doreen Carter, who said the ceremony marked a "an emotional moment" for her because her family and the King family are distant relatives.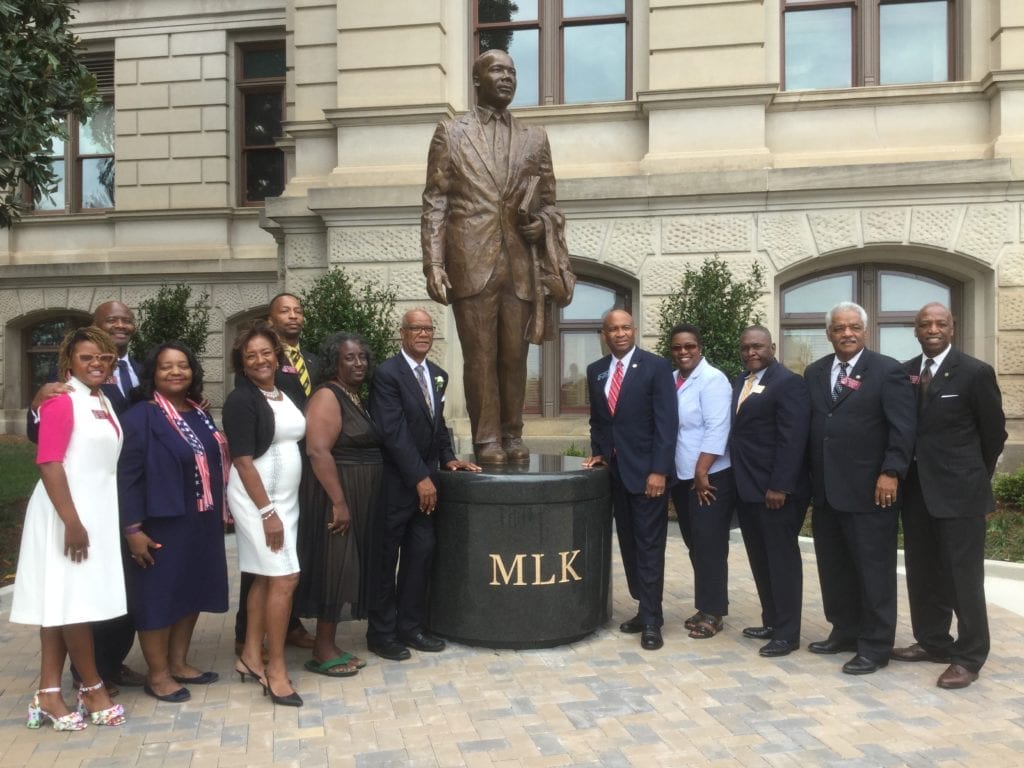 "When Bernice King got up to speak and began quoting her father, it was an emotional moment for me, especially in light of the Charlottesville, Virginia event and the debate here surrounding the Confederate carving on Stone Mountain," said Carter. "It feels like we're in the middle of a Civil War right now with all that's going on but for a moment—during the unveiling–there was peace."
Carter, whose maternal great grandmother married into the King family, said their families lived in Greensboro. Her mother lived on Auburn Avenue next door to the Kings, she said.
Stonecrest City Councilwoman Diane Adoma said the ceremony was inspiring.
"It was a true act of unity and while statues and memorials are coming down and people are protesting, Georgians are peaceful as history unveils," said Adoma.
Former State Sen. Connie Stokes said she was glad to be a part of history and pondered what lies ahead for a divided country.
"Today we live in an era that thrives on controversy and contraction. I was glad to be a witness standing at the state capitol today to memorialize a great Georgian and a global leader. The words from one of his famous speeches resonated: Where Do We Go from here?," said Stokes. "Difficult and painful as it is, we must walk on in the days ahead with an audacious faith in the future."
The MLK statue project was initiated in April 2014 when Deal signed into law HB 1080, legislation authorizing the placement of a statue honoring Dr. King at the State Capitol. The project was led by Rep. Calvin Smyre, a board member of the Georgia Capitol Arts Standards Commission, which undertook the statue's design and fundraising efforts, and overseen by the Georgia Department of Community Affairs. Sponsors of the statue include Coca-Cola, the Atlanta and Georgia Apartment Associations and the Martin Luther King Jr. Advisory Council. The remaining funds needed were made possible through the sale of state bonds.
"This is a great day in the history of our state and nation with the unveiling of a statue on Capitol grounds memorializing Dr. Martin Luther King, Jr.," said Smyre. "For the past three years I have worked with and alongside Gov. Deal, the Georgia General Assembly, Carrie Ashbee and the Georgia Capitol Arts Standards Commission, the King family, sculptor Martin Dawe and our entire statue team to make this a reality. As a Georgian and native son, Dr. King inspired our nation and the world with his message and vision. The King statue will inspire and give hope to generations to come."
The Dr. King statue stands in the original location of Georgia's Liberty Bell replica, which rang on Capitol grounds for special and patriotic occasions from 1950 until 1976 and is now located in Liberty Plaza.