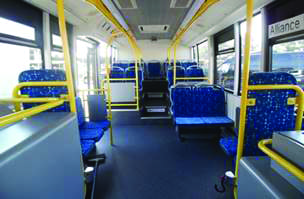 The Metropolitan Atlanta Rapid Transit Authority (MARTA) will roll out ten, 30-foot buses, offering right-sized service to neighborhoods with narrow and challenging roadways.
The recently purchased "Vicinity" buses will allow MARTA to better navigate Community Circulator routes located throughout MARTA's service area.  The first communities to see the new buses will include Belvedere, Boulder Park and Lovejoy and will expand "last mile connectivity."  Additionally, the new vehicles will also be used on routes with lighter ridership, such as Routes 56 and 192, until additional Community Circulator routes are introduced.
The superior turn radius, light curb weight, increased gas mileage and reduced cabin capacity makes the 30-ft bus option ideal for traveling narrow roads while adequately addressing ridership demands. The new Vicinity buses, which seat 23 passengers and two on-board mobility aids, will replace both the full-size and repurposed Mobility buses, which currently serve MARTA's Community Circulator routes.
"We are committed to creating more efficient transportation options for our customers. That means building a more highly layered, customized service model," said MARTA GM/CEO Keith Parker. "These new Vicinity vehicles allow our bus operators to travel safely into neighborhoods where our standard fleet could not easily navigate while offering more space than our current Mobility bus options."
The new buses, which are manufactured by Grande West Transportation and distributed locally by College Park-based Alliance
Bus Group, are scheduled to be in service during the month of April.
MARTA's 30-ft Bus Routes
Route 800-Lovejoy/Justice Center
Route 823-Belvedere/Decatur
Route 865-Boulder Park (*new route*)
Route 56-Adamsville
Route 192-Justice Center/Tara Blvd./Old Dixie Road