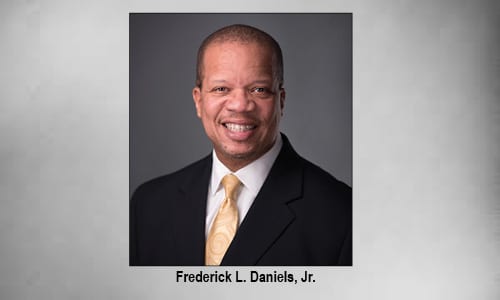 The American Public Transportation Association (APTA) has selected Frederick L. Daniels, Jr., a DeKalb County representative on the MARTA board of directors, as its Outstanding Public Transportation Board Member for 2018, one of the organization's highest honors.
The award is in recognition of Daniels' impressive accomplishments in various roles on the MARTA board as well as his indelible impact on the industry as a mentor, friend and invaluable resource to his peers at transportation agencies nationwide, officials said.
"I'm very thankful for this honor," said Daniels. "I've always believed in serving my community and have been inspired and blessed to have the opportunity to play an active role in an industry that touches so many people's lives in such a positive way."
Nathaniel P. Ford Sr., chairman of the APTA board, praised Daniels for his commitment and record of industry achievements.
"Fred Daniels is the quintessential board member extraordinaire," said Ford. "He has been involved in APTA at every rung as well as championing many causes and initiatives for the benefit of the entire membership.  Most of all, he's a strong, tireless advocate for public transportation. I can think of no one more deserving than Fred for this prestigious honor."
Daniels was first named to the MARTA board of directors in 2010. His colleagues elected him board chairman in 2012.
A banker by trade, Daniels is often credited with guiding MARTA's financial turnaround and was instrumental in helping move the agency from $30 million in annual operating deficits to approximately $35 million in surpluses. He is also cited for prudent policy measures that improved MARTA's bond and credit ratings, lowered its interest on bond indebtedness and restored the agency's cash reserves.
During Daniels' board tenure, MARTA celebrated major milestones including re-launching its popular Transit-Oriented Development (TOD) program, breaking ground on a massive solar panel installation at the Laredo bus facility in DeKalb County, and the 2015 addition of much-needed transit service to Clayton County.
While currently serving as treasurer for the MARTA board, Daniels remains active in APTA where he is widely known as the "Dean of Transit Board Members."  Daniels will receive the award at the organization's Sept. 23-36 conference in Nashville, TN.
A native of Cleveland, Ohio and a University of Virginia graduate, Daniels is executive vice president and chief credit officer at Citizens Trust Bank. He is married and has two daughters.