By Mark Brock, DCSD Athletics Specialist
G21 Devin Driskell – G2 Cyrus Wilder – L2 Raheem Swain
DeKalb County School District's (DCSD) Lithonia Bulldogs held off a furious fourth quarter rally by the Greenbrier Wolfpack to win 62-53 at Lithonia, giving the first year Head Coach Sam Marion his first playoff victory in the first round of the Class 5A state playoffs.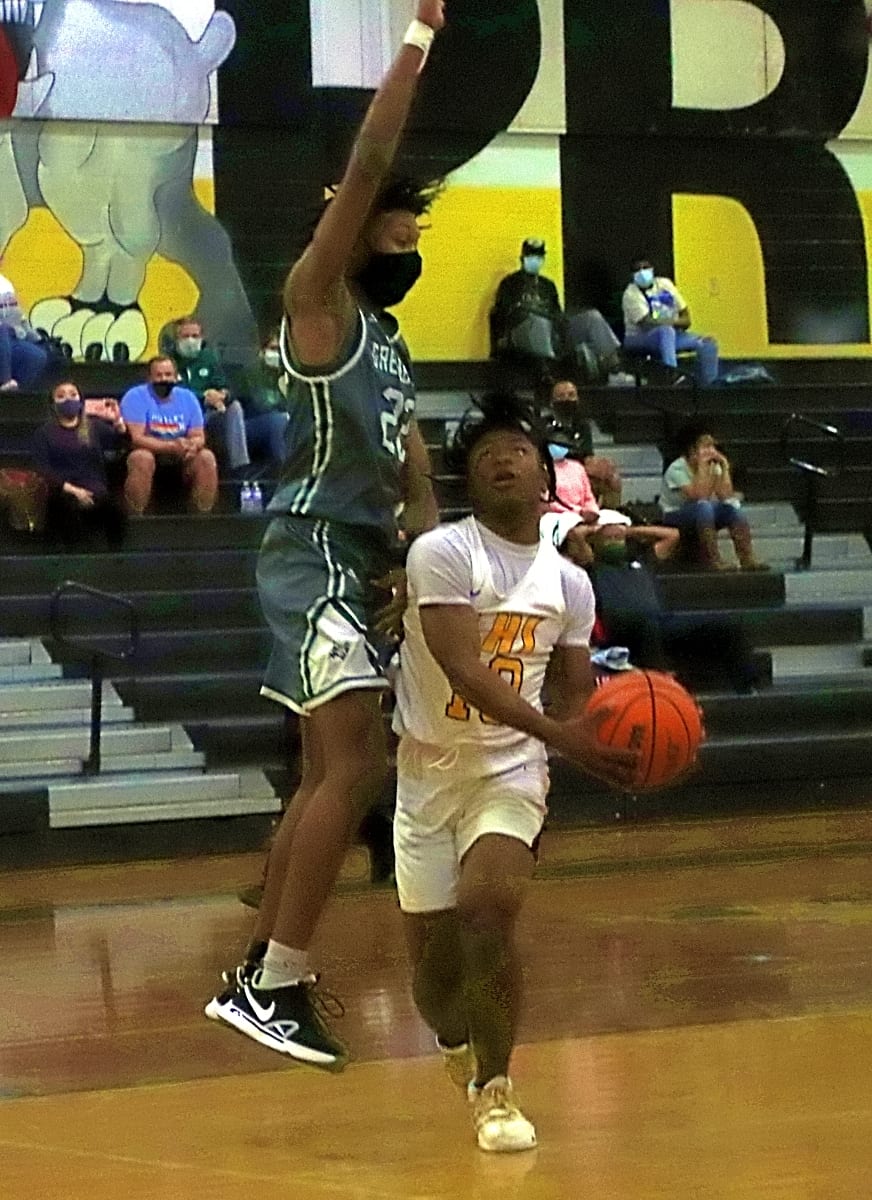 The No. 6 ranked Bulldogs (17-3) seemed well in control up 55-30 after a big defensive effort in the third quarter. Lithonia held Greenbrier to 33% (3-9) from the floor while hitting 10 of 18 shots along the way.
Khalil Roache had six points in the period to go with four from Chase Champion to expand the 35-19 halftime lead. Keshawn McCoy and Chase Lawrence both scored baskets in the final 16 seconds, Lawrence's on an offensive put back.
Greenbrier heated up in the fourth quarter and the Bulldogs cooled off hitting just 2 of 12 shots in the quarter. The Wolfpack (16-11) got three-pointers by Cyrus Wilder and Sean Edewor got the rally rolling and Hampton Goff's steal and layup with 2:05 to play cut the margin to 57-48.
Following a timeout, Raheem Swain hit one of two free throws and Champion scored on a drive to the basket to expand the lead to 60-48 with 1:22 left on the clock.
Another three by Wilder brought the Wolfpack within 61-53 with 14 seconds to play. Emmanuel Wilkins hit one of two from the line with 11 seconds to play for the final margin of 62-53.
Champion had eight points (two treys) in the first quarter including one at the buzzer to put Lithonia up 20-12.
Lithonia opened the second quarter with a 7-0 run to put the Wolfpack in a deeper hole. Tyler Roseberry and Kendrick Merritt both scored a basket in the final 1:35 of the half for a 35-19 Lithonia advantage.
Three Bulldogs were in double figures on the night led by Chase Champion with 16 points while Raheem Swain and Khalil Roache chipped in 11 each in the win.
Cyrus Wilder led Greenbrier with 16 points and Davin Driskell scored 8 and pulled down 15 rebounds.
Lithonia hosts Chapel Hill on Saturday, Feb. 27, with a time to be announced.
In other Class 5A games:
The Martin Luther King Jr. Lions (11-10), after winning a play-in game against Southwest DeKalb on Feb. 20, dropped a 73-43 decision to Clarke Central (19-6) on the road to end the season.
Class 4A Boys 
A pair of DeKalb Class 4A teams advanced to the Sweet 16 with home victories on Feb. 24.
The Miller Grove Wolverines (15-4) knocked off Central of Carrollton (18-11) 54-40 to move into the second round. Zyair Greene hit for 17 points to lead the No. 3 ranked Wolverines with Jahmil Barber and Tyreik Boyd contributing 11 points apiece.
Miller Grove gets another home game with the win and face Luella in the Sweet 16. A time and date have yet to be set.
The No. 8 ranked Stephenson Jaguars (11-5) got 29 points from senior EJ Walker on the way to a 72-62 home victory over Pickens (14-13). Chase Ballard hit for 15 more for the Jaguars.
The Stephenson Jaguars will go on the road to face Cedar Shoals in Athens this weekend. A time and date have yet to be set.
Class 6A 
The Tucker Tigers travelled to Valdosta and knocked off the Wildcats 60-54 to advance to the Sweet 16 in Class 6A boys' action on Feb. 24. The Tigers (15-6) got 20 points from David Giddens in the win over Valdosta (19-6).
The Tigers get a trip to Evans this weekend for its Sweet 16 game. A time and date have yet to be set.
In girls' Class 6A action, the Lakeside Lady Vikings (10-10) fell 40-31 in a tough defensive battle on the road at Lee County (11-10) to end their season.
Class 2A Girls 
The Columbia Lady Eagles defended their home court on Wednesday with a 51-38 win over Gordon Central (8-13). India Terrell, who has over 1,300 career points, hit for 27 to lead Columbia (16-7) in the win.
Columbia gets another home game this weekend and host Rabun County. A time and date have yet to be set.
The five winners tonight give DeKalb eight teams in the Sweet 16 round as they join Southwest DeKalb and Arabia Mountain girls and Columbia boys.
Wednesday, Feb. 24 
Class 2A Girls 
Columbia (16-7) 51, Gordon Central (8-13) 38
Class 6A Girls 
Lee Co. (11-10) 40, Lakeside (10-10) 31
Class 4A Boys 
Miller Grove (15-4) 54, Central-Carrollton (18-11) 40
Stephenson (11-5) 72, Pickens (14-13) 62
Class 5A Boys 
Lithonia (17-3) 62, Greenbrier (16-11) 53
Clarke Central (19-6) 73, M.L. King Jr. (11-10) 43
Class 6A Boys 
Tucker (15-6) 60, Valdosta (19-6) 54
DCSD STATE PLAYOFF SCHEDULE
SWEET 16 ROUND
Friday, Feb. 26
Class 5A Girls
Cass (25-1) at SW DeKalb (19-6), 6:00 pm
Class 4A Girls
Arabia Mountain (15-2) at Jefferson (22-4), 6:00 pm
Saturday, Feb. 27 
Class 5A Boys 
Chapel Hill (16-10) at Lithonia (17-3), TBA