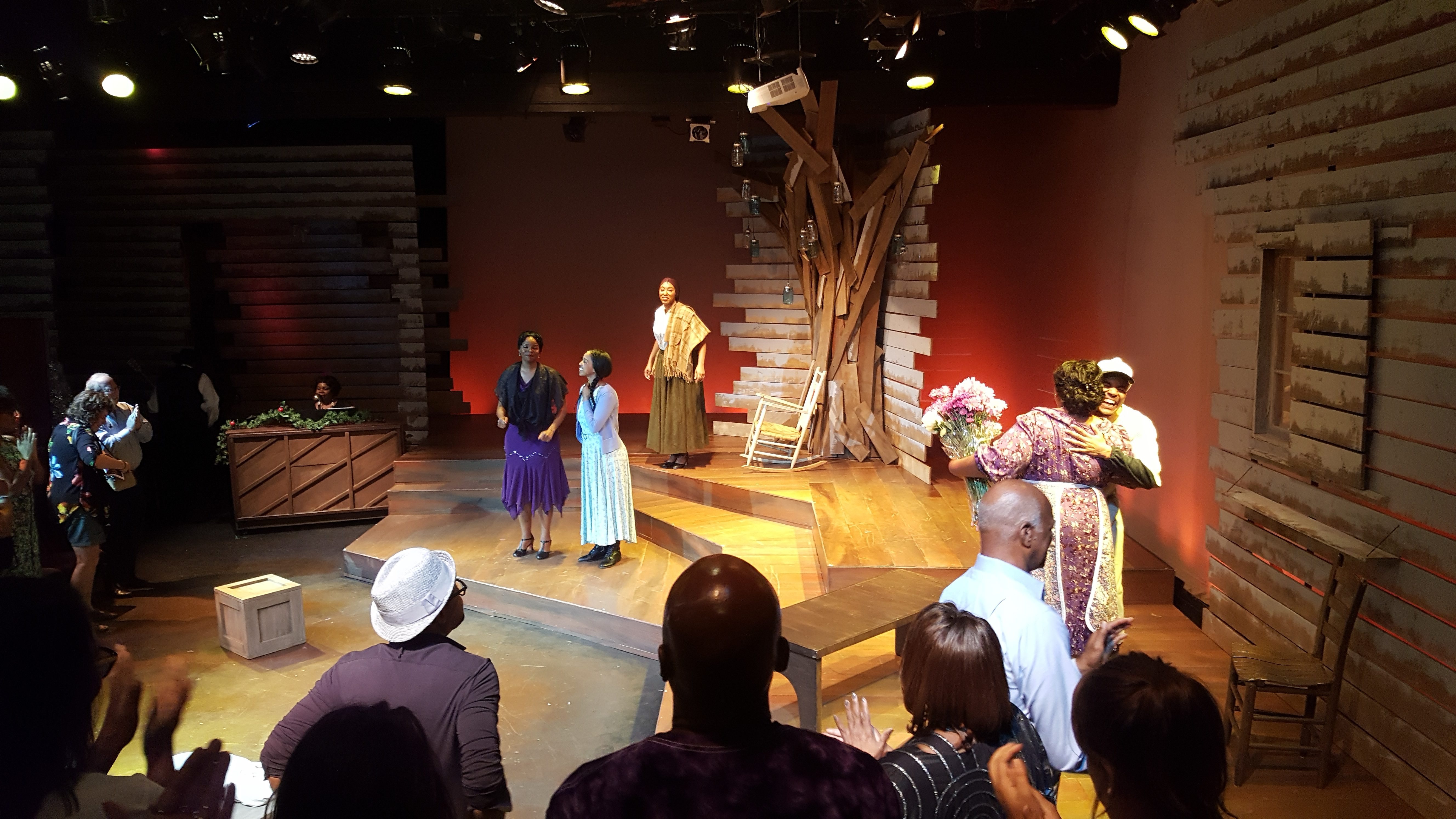 I recently had the opportunity to attend opening night for the new hit play, Blackberry Daze. Directed by award–winning writer/director Thomas W. Jones II, the play is a musical adaptation of the novel, Blackberry Days of Summer, by Ruth P. Watson. The stage play made its debut last September at the MetroStage in Alexandria, Virginia and will run at Horizon Theatre Company in Atlanta until Aug. 27.
Set post-World War I in small town Virginia, the audience can feel the sweltering heat of the summer the moment the town gambler, Herman Camm (TC Carson), walks onto the stage. Sly, charming and good-looking, Herman manages to seduce the recently widowed church-going Mae Lou (Naomi Lavette) and Pearl (Brittany Inge), a married Blues singer whose husband has just returned home from war. Intoxicated by lust and poor judgment, Herman is sure to pay the ultimate price for his womanizing behavior.
Meet Carrie (Ayanna Reed), the 15-year-old daughter of Mae Lou, and discover what it means to be a young black girl in the South trying to find love in the midst of segregation in a patriarchal society. Christy Clark and Christian Magby play multiple roles that will warm your heart and make you laugh at the same time.
Blackberry Daze has to be one of the most phenomenal musicals on the circuit right now and is sure to whet your appetite for good, down home theater. The cast delivers a mesmerizing and soulful mix of gospel and blues that is sure to excite the imagination and stir the heart and mind. Examine themes like family, race, infidelity, rape, abuse, forgiveness and redemption in this musical masterpiece.
In addition to the dynamic cast and stellar musical performances, the creative team did an excellent job of capturing the mood with brilliant stage design, seamless special effects and elegant period costumes that really brought the play to life. Horizon offers a cozy and intimate atmosphere offering no bad seats in the house.
The show runs until Aug. 27 at The Horizon Theatre Company, 1083 Austin Avenue, Atlanta. If you plan to attend, purchase tickets online at www.horizontheatre.com and plan to arrive half an hour early for parking and admission.