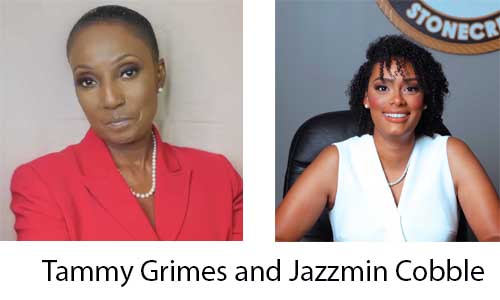 STONECREST, GA—District 5 City Council member Tammy Grimes soared to victory on Tuesday in her bid for re-election.
Grimes dominated the three-way race, receiving 69.38% (981 votes) sprinting far ahead of her challengers—Barbara Hall, who received 26.80% (379 votes), and Ryan Gallagher, who received 3.39 percent (48 votes).
More voters turned out for Grime than any candidate running for the three seats up for grabs in the city. A total of 1,415 people out of 8,789 eligible voters cast ballots in District 5.  Grimes  received 981 of those votes, according to unofficial results.
District 3 Council member Jazzmin Cobble, who also was overwhelmingly re-elected, earned 64.91 percent (592 votes), the second-largest share of voters of any candidate running in the city's elections. Cobble's closest challenger, Alecia Washington, garnered 33.22 percent (303 votes).
District 1 Council member Jimmy Clanton, Jr. ended the night in a runoff with Tara Graves. Clanton received 37.68% (292 votes). Graves earned 41.94 percent (325 votes). Since neither Clanton nor Graves received more than 50 percent, they will face each other in a runoff on Nov. 30.
Grimes' victory on Tuesday gave her a full four-year term in office. Grimes won a seat in 2019 to complete the term held by Diane Adoma, who stepped down from the seat to run for mayor. Adoma was unsuccessful in her bid.
Grimes thanked voters in a statement to On Common Ground News:
"Oh happy day! I am so honored to know that you trust me. It is with great humility that I accept your voice and your vote. Now, let's continue Moving Stonecrest Forward. Together!"
"Working over the next four years, I will keep what is best for Stonecrest: ALL– as the focus. Integrity, Transparency, Fidelity and Truth do matter!
Thanks again for trusting me as your District Councilwoman."