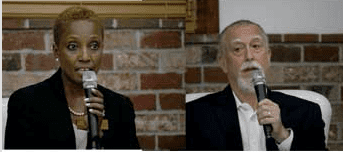 L-R: Tammy Grimes and Dave Marcus
Early voting for the Stonecrest City Council District 5 special election runoff will be held Nov. 21-27.
The candidates in the race are Tammy Grimes and Dave Marcus, elections officials confirmed after certifying the Nov. 5 results on Nov. 15.
Stonecrest voters who live in District 5 may cast ballots at the DeKalb County Voter Registration & Elections Office, 4380 Memorial Drive, Decatur, or the Stonecrest Library, 2123 Klondike Road, Stonecrest, during the early voting period.
Both locations will be open on Nov. 21, noon to 4:30 p.m., and Nov. 22-27, from 8 a.m. to 4:30 p.m.
There will be no voting on Saturday, Nov. 23 or Sunday, Nov. 24.
You must go to your assigned polling precinct on Runoff Election Day, Dec. 3.