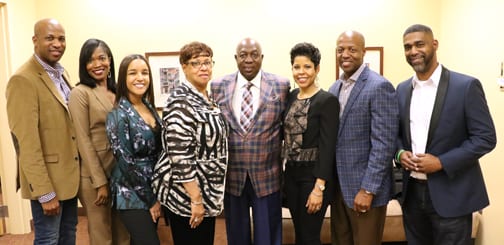 The Porter Sanford III Performing Arts Center is celebrating a decade of the performing arts in South DeKalb with a calendar filled with events.
David Manuel, interim deputy director of DeKalb Recreation, Parks and Cultural Affairs,  said that 2018 will be jam-packed with programs from now until the annual "Urban Nutcracker" musical, which will be held in December.
"We're having events all year round. This is our way of saying thank you to the community for helping us celebrate 10 years of bringing the best of arts and culture to South DeKalb," said Manuel, who has been over the Porter Sanford for seven years.
The DeKalb arts center kicked off the festivities on Jan. 6 with the "New Year, New Life" concert featuring music artists Kenny Latimore and Jukebox Atlanta. The free event was emceed by Sasha the Diva from KISS 104.1 FM and sponsored by Greory B. Levett and Sons Funeral Home.
This year's lineup will include a newly minted spin on the Jungle Book in partnership with the Alliance Theater. In addition to art performances, the DeKalb arts center is slated to host its annual Hidden Figures Award ceremony honoring local female trailblazers this March as well as a host of concerts, plays, art exhibits and the forthcoming opening of an on-site amphitheater. The center's black box theater will be outfitted as a juke joint for a special jazz music series later this year.
"We're trying to be an arts center that really supports the community and we're excited about where we're going," said Manuel.
The Porter Sanford III Performing Arts Center is named for the late DeKalb County commissioner who served from 1994-1999. He was the first elected African American presiding officer of the DeKalb Board of Commissioners.
The 500-seat theater is located in the historic Candler Road district at 3181 Rainbow Drive, Decatur. For more information, call 404-687-2731.