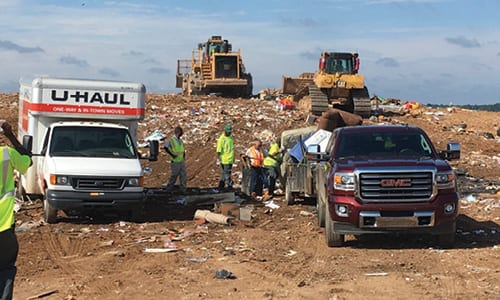 The DeKalb County Sanitation Division will host the "2nd Annual Landfill Amnesty Day" event on Saturday, May 19, 8 a.m. – 4 p.m., at the county-owned Seminole Road Landfill, 4203 Clevemont Road, Ellenwood. 
Residents will have an opportunity to dispose of bagged garbage, yard trimmings, tree parts, bulky items, such as furniture and small and large appliances, and special collection items, such as tires and construction and demolition materials. No hazardous materials will be accepted. The event is free and open only to DeKalb County residents. Proof of residency will be requested.
Amnesty Day is part of the "Operation Spring Clean Sweep 2018" campaign, a multi-departmental initiative focused on litter removal, illegal dumping, and removing debris, trash and grass from streets, neighborhoods, sidewalks, roadway drains and county rights of way.
For more information, contact Pauline A. Andrea, DeKalb County Sanitation Division public relations manager, at 404-971-2892 or paandrea@dekalbcountyga.gov, visit www.dekalbsanitation.com, or follow @DKalbSanitation on Twitter.