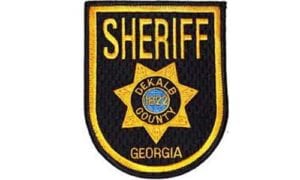 The public is invited to participate in a review of the DeKalb County Sheriff's Office for reaccreditation by the Commission on Accreditation for Law Enforcement Agencies, Inc. (CALEA) April 4-6, 2022.
CALEA establishes and administers an annual accreditation process through which law enforcement agencies demonstrate voluntarily that they meet professionally recognized criteria for excellence in management and service delivery.
Public comments can be submitted in three ways: By telephone, at 404-298-8282, on Tuesday, April 5, 2022, between 1 p.m. and 3 p.m. By ZOOM during a public information session Tuesday, April 5,  at 5 p.m. Log onto https://dekalbcountyga.zoom.us/j/82588824941 use code 631826. Telephone and ZOOM comments are limited to 10 minutes per caller or speaker. or, by U. S. Mail to the Commission on Accreditation for Law Enforcement Agencies, Inc., 13575 Heathcote Boulevard, Suite 320, Gainesville, VA 20155.
All public comments must address compliance with CALEA standards by the DeKalb Sheriff's Office Field and Court Operations, and Administrative Services. Field Services Operations is responsible for law enforcement and includes the Uniform, Criminal Process, Fugitive, Domestic Violence, Sex Offender, Warrant and S.W.A.T. units. Court Services Operations provides security for the DeKalb County Courthouse complexes for Superior, State, Magistrate, Probate, and Juvenile courts. Administrative Services supports the agency's more than 500 employees and operations, including human resources, fiscal affairs, supply, and information systems.
To obtain a copy of the standards, call 404-298-8111 or pick up a copy at the DeKalb County Sheriff's Office Headquarters at 4415 Memorial Drive, Decatur, between Monday, March 28, and Friday, April 1, 9 a.m.  until 3 p.m.
The DeKalb County Sheriff's Office has maintained continuous CALEA accreditation since July 2000. For additional information,