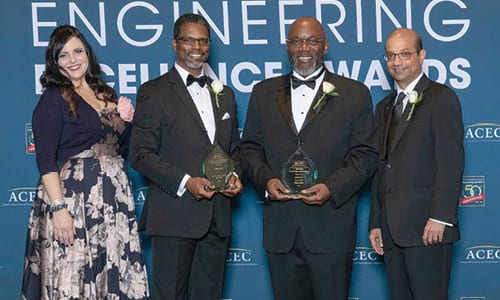 The American Council of Engineering Companies (ACEC), the nation's oldest and largest business association of engineering companies, honored DeKalb County-based Corporate Environmental Risk Management, LLC (CERM) for its technical leadership, community engagement and education outreach work on the redevelopment of the former Mobile Gas Manufactured Gas Plant (MGP) into a 7-acre public park. 
In June 2017, CERM and its partners completed the environmental assessment and remediation of the 175-year old MGP site located in downtown Mobile, Alabama. CERM received the 2018 National Recognition Award during the annual Engineering Excellence Awards Gala last month in Washington, D.C. 
The minority-owned firm collaborated with the surrounding community to implement a successful strategic public engagement plan. 
"We understand from first-hand experience the importance of recognizing perceived burdens and hardships with key project stakeholders and partners to build consensus on engaging and educating the broader community," said Albert Edwards, Founder and Managing Director for CERM. "This strategic approach provides a platform for corporate, community and civic leaders to align resources to mitigate broader community development needs and we are honored to be recognized for what will be an invaluable amenity for residents to enjoy for generations to come." 
Each year, ACEC celebrates the nation's best engineering achievements using criteria such as uniqueness and originality, and technical, economic and social value.