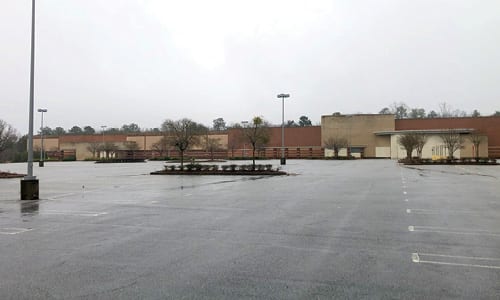 The city of Stonecrest is gearing up to expand in 2019 and recently took the first steps toward finding a site to establish its Stonecrest City Center to house more  of its departments.
The City Council passed a resolution on Dec. 17 to appoint a committee to enter into negotiations for a lease with an option to purchase the former Target building located at 8109 Mall Parkway in Stonecrest for the expansion.
 The city plans to house the Department of Public Safety and Parks and Recreation in the 100,000-square-foot building, which is owned by Allen Family Investments, L.L.C.,  Lecester Bill Allen.
The resolution follows the city's recent announcement that the council had passed a balanced budget of $9.1 million for 2019 with no tax increase for residents. The budget includes $250,000 in reserves and the addition of departments and expanded services.  
Mayor Jason Lary made the following appointments, including himself, to the committee that will begin negotiations for the former Target building: Councilwoman Jazzmin Cobble, who has played an integral role in monitoring the city's finances; Acting City Manager Michael Harris; Robert Scott, who handled the negotiations for the Stonecrest City Hall lease at the Strayer University building; and Attorney Winston Denmark, a partner of Denmark-Fincher, LLC, one of two law firms representing the city. 
Lary said the committee has been tasked with developing a recommendation within the next 30 days for the former Target building.