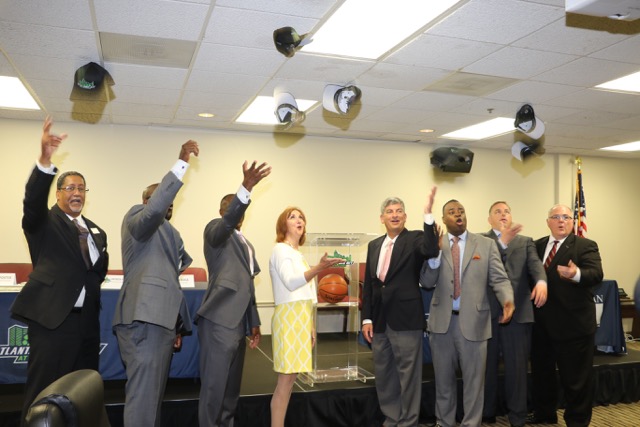 Atlanta Sports City (ASC) at Stonecrest has inked a deal with Emory Healthcare and Urban Retail Properties, LLC, owner of the Mall at Stonecrest, to join the mega sports and entertainment complex that will be built in the newly-formed city of Stonecrest.
Officials announced Emory Healthcare as the official sports medicine partner and Urban Retail as the official retail partner for the project during a news conference, which was held on May 17 at the Discover DeKalb Convention & Visitors Bureau in Tucker. Officials also announced that a new grand entrance to the Mall at Stonecrest would be built along Mall Parkway linking the mall with the sports and entertainment complex adding 250,000 square feet of restaurants, retail, attractions, and green space.  The complex will be built on a 197-acre tract west of the Mall at Stonecrest and will feature a 15,000-seat stadium, outdoor multi-use fields, sports diamonds, indoor courts and a restaurant and entertainment area.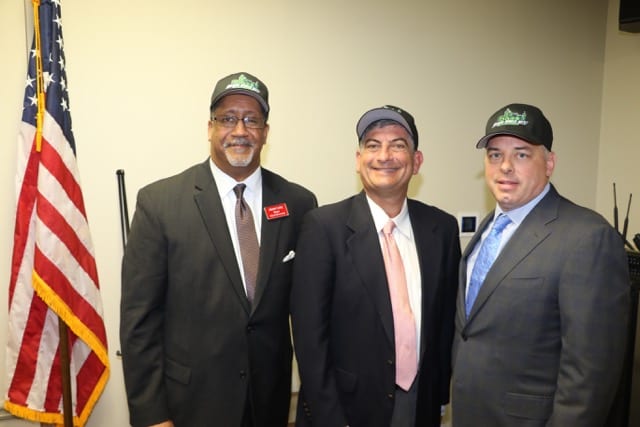 Vaughn Irons, developer for the project, said the announced partnerships—what he called "the first impact players"—mark a milestone and solidify ASC's plans, which were unveiled three months ago.
With the Emory Sports Medicine Center as anchor for the 10,000-square-foot Sports Medicine Pavilion, Atlanta Sports City will be able to provide top medical care to athletes, Irons said. Emory, which has more than 16,000 employees including 2,000 physicians, is the most comprehensive academic health system in Georgia.
"Our development team is extremely pleased we were able to negotiate adding Emory Healthcare, Emory Sports Medicine and Urban Retail as cornerstones to Atlanta Sports City. Both partners are nationally recognized and respected for their excellence in their fields of expertise," said Irons, who said his team plans to set up workshops to seek vendors by working closely with the DeKalb Chamber of Commerce, DeKalb NAACP, Dekalb Ministers Alliance and other organizations.
Scott D. Boden, MD, director of the Emory Orthopaedics & Spine Center, said he and Irons put a lot of time and energy into working out the details of the project.
"Our collective vision for this partnership will establish an unmatched level of on-site integration of multi-sport athletic competition and training with sports medicine diagnostic equipment, medical care, and sports medicine research," said Boden. "We expect this to be a very unique feature for an athlete or a parent deciding to visit Atlanta Sports City."
Boden said Emory's partnership represents a $10 million investment. He said Stonecrest provides an optimal location for Emory to better provide services in the East metro area. The Stonecrest regional office, he said, would join Emory Healthcare facilities in Brookhaven, Dunwoody, Johns Creek, Stockbridge and Smyrna.
The owners of Atlanta Sports City praised the partnerships.
"The addition of such notable and respected organizations like Emory Healthcare, Emory Sports Medicine and Urban Retil allows us to deliver the caliber and level of products and services that we imagined and planned for when we began the inception of Atlanta Sports City—another essential building block of our foundation," said Patrick Henderson.
"Announcing Emory Healthcare and Sports Medicine is an announcement to our youth that we care about them in the absolute best way," said Zeric Foster.
James Tsismanakis, executive director of Discover DeKalb CVB, said the project would have a major economic impact on Stonecrest and DeKalb County, generating $200 million annually through tourism.
"The convergence of Emory Healthcare, Urban Retailers and the Atlanta Sports City team is impressive. This partnership has continued to bring together the best of the best in partners, resources and opportunities for the youth in the region to have a top-notch experience at what will be the region's number one multi-use sports tourism destination," said Tsismanakis. "The opportunity to house sports medicine services, a unique retail experience and the ultimate reason to visit Atlanta Sports City, sports, all in one place is monumental to DeKalb County, the state of Georgia and the region."
Both Trish Edge, manager at the Mall at Stonecrest and Craig Delasin, executive CEO of Urban Retail Properties, LLC, said it made since for the mall to partner with Atlanta Sports City at Stonecrest. Ultimately, the mall is looking for foot traffic and Atlanta Sports City, they said, will provide that. Edge said she is looking forward to welcoming millions to the mall and enjoy her family participating in soccer right at home.
"As a proud soccer mom with two daughters involved in soccer for quite some time, it is so exciting to think they and their teammates will have opportunity to play tournaments in our back yard as opposed to driving all over the Southeast for tournaments," said Edge.
Delasin said he plans to look for retailers during an upcoming convention that will be held in Las Vegas. Irons and Stonecrest Mayor Jason Lary will be among those traveling to the convention.
"As mayor, I could not be more proud of our city and the tremendous growth that is developing in such a first class, first rate manner," said Lary, who said the partnership announcements put the excitement level at a "fever pitch."