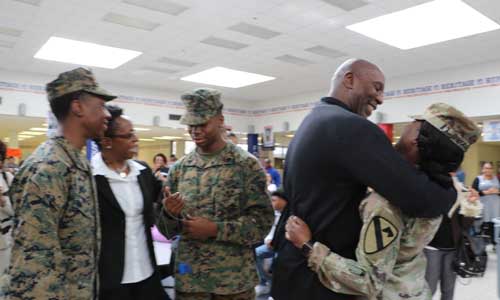 By Mackenzie N. Morgan
The Hodge family is still basking in its excitement after welcoming home daughter and sister SPC Amneiah Hodge at a military homecoming celebration held on March 6 at Heritage High School in Rockdale County.  SPC Hodge, who graduated from DeKalb County's Arabia Mountain High School in 2014, recently returned to the U.S. after spending nine months overseas in Zagan, Poland and Grafenwöhr, Germany.
The Conyers servicewoman and her mother, Candice Hodge, orchestrated the surprise homecoming for Amneiah's father, Henry Hodge, Jr., who works as an intel specialist at Heritage High, and two younger brothers, Henry and Isiah, who are both in the school's ROTC program.
During a special ROTC exercise, Heritage Principal Latonya Richards announced that a special guest was in the building and asked for Intel specialist Henry Hodge to come forward. SPC Hodge emerged from the ROTC demonstration dressed in camouflage. Students, staff and relatives cheered and clapped as SPC Hodge was embraced by her teary-eyed and speechless dad. He was joined shortly after by her two equally shocked brothers.
"It was a lot to keep all of this bottled in. Now I can stop telling the little white lies and avoiding certain conversations," said Candice Hodge.
Candice Hodge said the weeks of secrecy were well worth the smiles on her family's faces after seeing her family reunited for the first time in a year.
"We couldn't have done it without Principal Richards. I am so appreciative of Principal Richards and her staff for helping to make this event so special," said Hodge.
Candice Hodge said she spent several weeks secretly planning the homecoming with Richards, who helped coordinate the event in conjunction with the school's "Marching Forward" program which highlights student achievement across various disciplines during the month of March while motivating students to excel as they move toward testing and graduation season.
"We were just so happy to welcome back SPC Hodge. The dad works here, and the sons attend here as well and we just couldn't think of a nicer family to do this for," said Richards.
Mom Candice Hodge said after all of the excitement, the family went home and enjoyed a family dinner featuring Amneiah's favorite: shrimp and grits.
Outside of extended family members, SCP Hodge, 21, is the first person in her immediate family to enlist in the military.
SPC Hodge, who was attending Georgia Southwestern State University prior to enlisting in the Army, said she plans to return to school to obtain her degree. For  the next two weeks, however, she will enjoy spending time with her family as a civilian. SPC Hodge will be stationed in Fort Hood, Texas as a unit supply clerk.
SPC Amneiah Hodge represents Unit HHC BDE 1st Armored Brigade Combat Team 1st Cavalry Division.
To see the surprise homecoming celebration video click the video below.